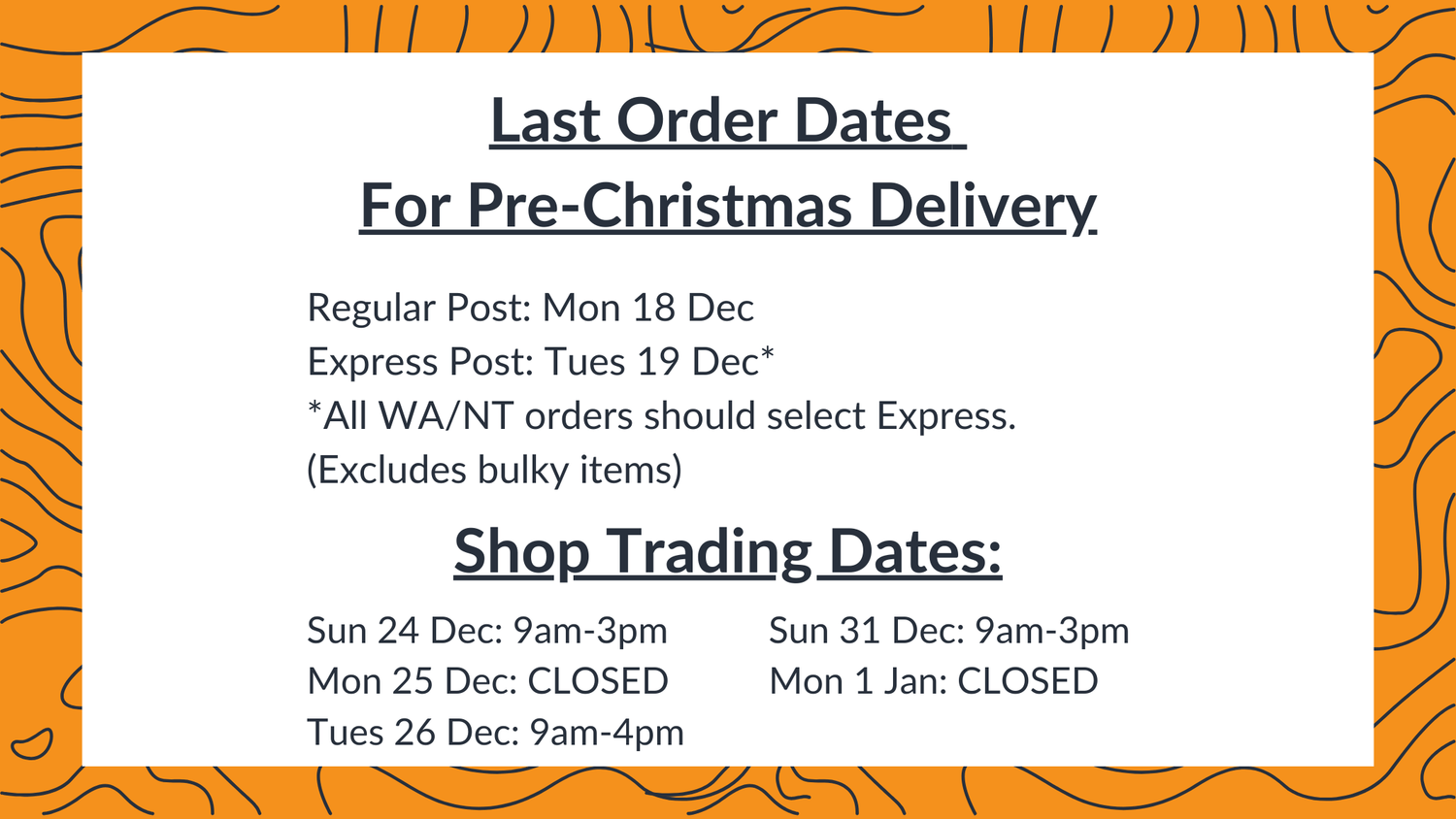 Shipping
Orders received, paid and verified by 3pm (Sydney time) are usually dispatched the same business day. 
Orders are not shipped on Saturdays, Sundays or public holidays.
Overnight Courier orders must be place before 9am in order to be dispatched within the same business day. 
Shipping Charges
Orders $99 and over = FREE STANDARD SHIPPING* (excludes Bulky or Heavy Items)
Orders under $99 = FLAT $10 SHIPPING COST* (excludes Bulky or Heavy Items)
Sydney Metro Overnight Courier = $18 FLAT
Express Shipping = $13.50 FLAT* (unavailable for Bulky or Heavy Items)
Priority Shipping = $35 FLAT* (unavailable for Bulky or Heavy Items) Startrack Premium air service 1-3 business days most of Australia (regional/remote areas may be 1-2 days additional)
Bulky/Heavy/Custom Shipping Charges
Bulky Items:
Items including, but not limited to, Rods, Spears, Rod racks, Small Gaffs, Crab pots/cages will include a bulky shipping charge starting from $15.

Other Items of a larger size including, but not limited to, Bench Crimpers,  Large Rod Tubes, Outrigger Poles, Downriggers and Large Gaffs will incur a bulky shipping charge starting from $30. 


Heavy Items: 
(Sinkers, Weights etc) = $12 FLAT*


Very Heavy/Very Long Items: 
(Electric Motors, Outrigger Poles etc) = Custom shipping cost required - After you place your order, Fishing Station will contact you to discuss shipping costs and options. You are able to request a full refund if the cost is not suitable.

*In the very rare case an order incurs higher postage rate than displayed (bulky items etc), Fishing Station reserves the right to request additional postage charges. You will have the option to cancel or continue with the order. *Items over 1m cannot be delivered to a PO Box (only residential or business addresses).


Sydney Metro Overnight Courier
Order must be placed before 9am

We recommend giving Authority to Leave for residential addresses to prevent delays.
Due to restrictions with Australia Post and our couriers, shipping to the following areas must be quoted by our staff. We may not be able to ship to these areas.
6798 Christmas Island

6799 Cocos-Keeling Islands

2898 Lord Howe Island

2899 Norfolk Island

7151 Antarctica
Shipping Carriers and Conditions
Your order will ship via one of the following carriers. Unfortunately we are unable to adhere to shipping carrier requests.
Australia Post

Australia Post Express Post

Startrack

Fastway

Go Logistics
Owing to the value of our products, a signature may be required upon delivery.  If a signature cannot be obtained at the designated delivery address, the products will be delivered to the nearest Australia Post Office for your collection, or returned to the local courier depot. In both instances a calling card should be left by the driver, giving the local post office address, or instructions on how to book a redelivery. If Authority to Leave is expressly granted during checkout, Fishing Station accepts no responsibility for lost parcels.  Please note that once you sign for the product/s, you own them. The freight carrier and/or the manufacturer are unlikely to approve an insurance claim once you sign for freight.  Therefore, please ensure that you inspect the product/s before you sign for them. If the product is, or appears to be damaged, do not accept the delivery. 


Order Tracking
A tracking number and shipping carrier will be provided at the time of order dispatch (a separate email will be sent). You can enter this tracking number on the website of the shipping carrier. Please note: tracking information may not be immediately available - a time delay of approx 4 hours is generally the case between dispatch notification and when information becomes available. 
Delivery Times
Standard Shipping
2-10 business days

Delivery times may vary depending on location and seasonality.

Express Shipping
1-5 business days depending on location

Please note: Express Shipping is no longer "next day guaranteed".
Priority Shipping
1-3 business days for most Australian locations
International Shipping
New Zealand Flat Rate: AUD $25

Rest of World Flat Rate: AUD $35

Maximum combined order weight: 500g

Available for most small items such as reels, lures, hooks, clothing, terminal tackle etc.

Items >80cm require a custom quote (rods etc)

Not Available for any Shimano items due to contractual restrictions to only sell within Australia.

Payment for international orders must be made by a verified Paypal account. If the payment is not verified, Fishing Station may contact you for further verification.

Local customs charges/import duties may be payable - Fishing Station has no control over this.
Order Cancellations
Should you wish to cancel your order, please contact us immediately, preferably by phone. As we ship on a daily basis, we may not be able to cancel your order prior to dispatch. If this is the case, unfortunately we will need to charge you the cost of delivery, and the cost to have the parcel returned to us.
Shipping Delays and Return to Sender
Please allow sufficient time for your order to travel to you. Should your order not be with you after 8 business days, please contact us and we may be able to open an investigation. If we are unable to deliver your package after multiple attempts, and it is returned to us, a re-delivery charge will apply (regardless if the order qualified for freight-free). Please check your address details carefully on the order - returns due to incomplete or incorrect address details will also incur additional charges.
Damaged Goods Received
If your parcel has sustained any visible damage on delivery and the contents may be damaged, you must advise us by phone or email within a few hours of the delivery occurring. Insurance claims cannot proceed if the time lapses beyond this, and Fishing Station will not be responsible to replace the items.
Getting ready for your next fishing adventure?
Call and speak to our fishing experts today or pop in-store for a visit
CALL US (02) 8094 9197